Looking for quality and affordable canister vacuums to choose from may be quite a challenge, especially when you do not know where to start. Knowing or having a basic idea of what makes a good canister vacuum is one way to go, or by simply looking at some trusted brands.
Panasonic had been known for its home appliance that will be of great help to you when it comes to maintaining and improving your overall home experience. They had been an all-around electronics and technologies company that continues to innovate products to help every home have a much comfortable life.
Panasonic Mc-cg917 Optiflow Bag Canister Vacuum Cleaner
The Opti Flow (MC-CG917) canister vacuum by Panasonic is a bag-equipped canister vacuum, although it is one of the affordable ones (depending where you buy), you may have to add some extra bucks to purchase a couple of extra bags for house cleaning purposes.
Features
Okay, so an appliance's specifications can get a little bit too technical that you  do not really understand how it will benefit you. Here are some of the basic features that you should take a look for every choice you have:
Dimensions
By dimensions, we are talking about the cord and nozzle length, with these two always working hand-in-hand, you have to take into consideration how long the cord is. The cord's length is an important variable that allows your nozzle to comfortably reach difficult spaces for cleaning.
Another thing when we say dimensions, we are also talking about the weight. This will help you gauge whether or not you can handle a canister vacuum easily. For this Panasonic Opti Flow, it has a 24 ft. long cord, a 14-inch wide nozzle that will allow you to clean a large area, and is not as light compared to others with 25 pounds.
Performance
Of course, your appliance's power when operating is one of the things you should ask your seller about. It will give you a better grasp on just how much it can do and take, or whether or not it can handle the amount of cleaning you usually do. This Opti Flow by Panasonic is powered by a 12 amp motor.
Aside from that, it is equipped with a dual monitor system to allow a gentler carpet cleaning, and a HEPA filtration that will help in your cleaning efficiency, removing the smallest dust particle that your space may have.
Capacity
With the 12 amperage motor of this canister vacuum allows it to have a strong suction power to effectively remove and dust off the dirt in any surface. Plus, with it having a motorized brush, you can easily clean both hard floor and carpeted areas of your home.
Another positive thing about this Panasonic Opti Flow is its capability to remove pet hair that is usually hard to remove, and it is effective in upholstered furniture too.
Attachments and Accessories
Okay, so most canister vacuums come as is when you purchase it. However, they also have some recommended attachments and accessories for an expanded benefits or capability.
Like for this Panasonic Opti Flow, it comes with about four attachments: thee floor, crevice, dusting/upholstery and pet turbine brush tool. These tools will cater to multiple areas, which a simple canister vacuum just cannot do.
Pros
Cons

Aside from having a good cord length of 24 feet, this Panasonic canister vacuum also has a retractable cord, so you do not have to worry about storage space.
The 12 amp motor gives a strong and good suction power to the canister vacuum for cleaning efficiency
It uses HEPA filtration
It is designed to have the power switch on its handle, this will help you avoid bending to power it on or off.
Power switch is available for the motorized brush, this will help you prevent leaving any scratches on your hard wood floor during vacuum.
It is almost rare to find a canister vacuum that is equipped with motorized brush, which helps in carpet cleaning. It is good for pet hair removal as well.

With good performance on both hard floor and carpet areas, this Panasonic Opti Flow canister vacuum does not do well when it comes to edge cleaning
Unlike most canister vacuums, which has a small built and light weight, the Opti Flow is not light in weight and has a tendency to look a bit bulky.
The bulkiness may require you to look or set a somewhat spacious storage room to comfortably accommodate it.
Its wand cannot stand on its own when used at a fully extended manner.
Verdict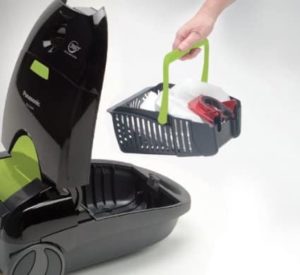 It is a given that canister vacuums do not come cheap especially for brands like Dyson, which you can count on having a quality appliance and to give a top notch performance in every cleaning session you have.
The Opti Flow by Panasonic probably is a wish come true for those of you looking for an affordable canister vacuum that will not compromise on its performance. I think this unit is one of the most recommended canister vacuums out now, especially because it is kind of rare for this product to be an effective tool when it comes to carpet and pet hair cleaning.
A good canister vacuum, this will give you about 50 to 60 percent of your money's worth, which is not a bad return of your appliance investment.
Although this canister vacuum is definitely a product worth considering, with its mid-price and good finish, I suggest you read more reviews by other users to see if this will be catering to your cleaning needs.
Related Canister Vacuum Reviews: